Yes~! A wonderful trip to KB CHMS on last Friday, 080808 (Nice date wasn't it? xD). Oh and, wonderful performance too~! =D I arrived school early in the morning around 6:55... and I usually arrive school around 7:10 for classes. Yes, a
LOT
earlier~! O.o" Then we began our journey after everyone arrived, which was around 7 sharp to 7:10am. And guess what? This blog has been neglected here by me for errr... few days already? xD ahahahah~! anyways Imma going to post the pictures of the trip! XD and then follow up with the BBQ pictures on Sunday in the next entry, which was a celebration to my little cousin, his one year old birthday partey~! =D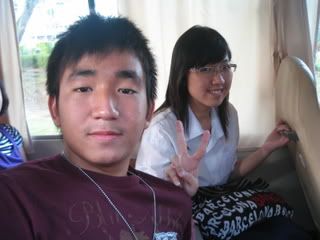 First picture we took when we sit on bus.
Guess what are we doing? Practice singing??? OMG how hard working~~~ XD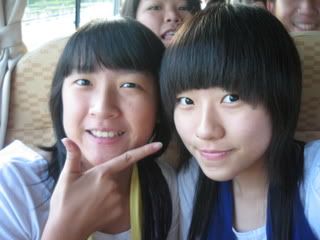 Teng and Ling vain vain~! xD (Look at me look at me~!!! XD lol? qiang jin tou...?? o.o"")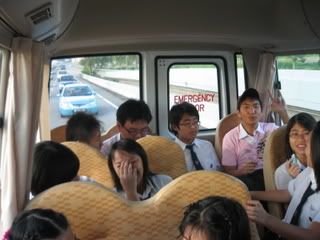 Nobody seemed to be nervous about the performance later eh? = ="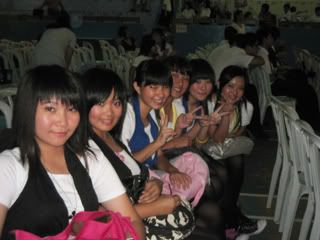 Finally, we arrived there after sitting in the bus for 2 damn hours~ X_x we should be thankful our arses are still okay~~~ XDD Girls dancing MR. Q~! =D (Girls, say PEACE!!!!!! XD)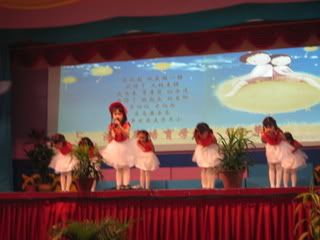 One of the performance performed by the primary kids~ Cute ain't they? xD Red hood!!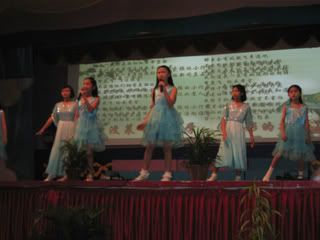 Great performance performed by the primary kids from CHMS! xDD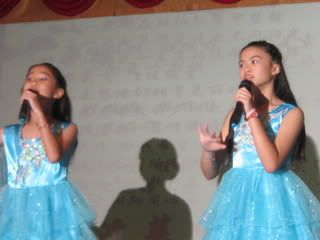 Closer look of the little singers~ x3 Shiny shiny clothes? o.O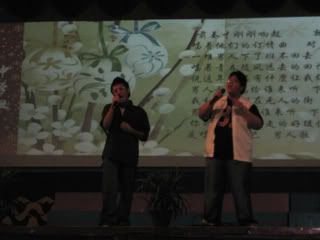 Nan Ren KTV~ their singing was awesome! O.O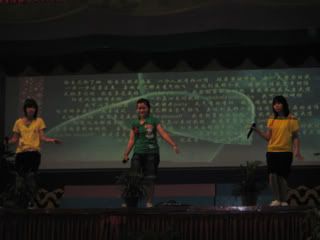 Three girls singing SHE song, forgot what it was but the girls are awesome too!! xD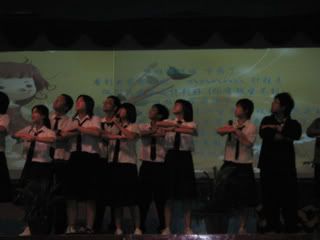 Okay this group is just super funney~ look at their action!! xD I don't know how it was because I was preparing my show behind the stage...
Next...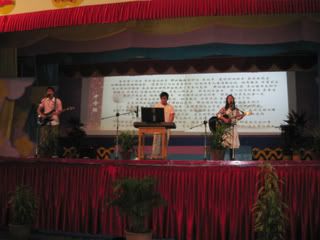 Yes!!! Our band!!! xD Jeff, MoMo, and I! XD aren't we just so cool??? HAHAHAH alright I'm just kidding~ = =
LALALALALA~ Do I cool do I look cool?? XD ahahahah super vain okay... = = And err... I kinda sang wrong... rawrr... = =""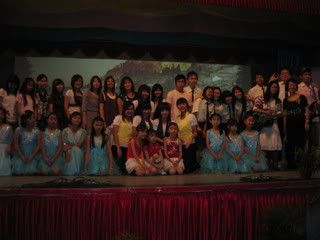 Picture of all the students and teachers who joined the function this time~ Peace~! XD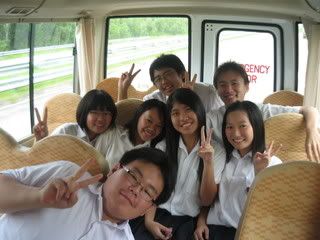 On our way back to school! Last picture of this trip~ my camera ran out of battery after this, lucky bastards~! XD
Okay right, we had free lunch at the school after the performance and went back to school straight. Oh wait, we stopped for junk foods cos we saw Soon Lee while we're on our way back to the school. Ai Xing bought a small box of strawberry ice cream which cost her about $2 and decided to share with me, I barely eat sweet things but oh wells~ once in a blue moon~ mehhh xD And we were lucky that we shared, cos Vicky and Beng didn't managed to finish it...= =" We sang like crazy in the bus until everyone was so exhausted to sing anymore and collapse sleeping in the bus~ it was so damn fun~! x3 I doubt I would even forget about this trip to KB. =D And I doubt anyone would. ^^