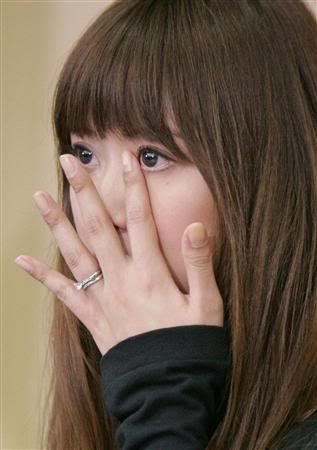 From Tokyograph:
"Popular actor Hiro Mizushima (24) and singer-songwriter Ayaka (21) surprised the entertainment industry on Friday when they held a press conference announcing that they recently married. In addition, it was revealed that Ayaka will be putting her music career on hold.
The two apparently first met three years ago, but it wasn't until a magazine interview last spring that their relationship began to develop. The pair started seriously dating in August. They decided to register their marriage on February 22.
Mizushima explained, "She is indispensable to me. I thought, if I let go of her, I'll regret it my entire life." Ayaka commented, "My first impression of him was that he had really powerful eyes, and he could completely see through me. Right now, he is someone I respect from the bottom of my heart.
It was also learned that immediately after Ayaka's debut in 2006, she became ill with Graves' disease, an autoimmune disorder. Ayaka tearfully reported that her symptoms have been increasing. As a result, Ayaka will continue with her music until the end of this year, after which she will put her career on hold. Mizushima promised to protect and support her."
Not that I only know about this news recently, it's just that this post has been saved as draft for a very very long time. Ayaka-san and Hiro-san was married this year, I only just know about this around end of this year, as usual, I kinda forgot to finish this post.
Ayaka-san, to me, her voice is as amazing as it sounds. Her voice is gentle and powerful that often brings me this gentle feelings.
Today, I hope Ayaka-san's illness has receover little by little. I will pray for her.